ooscc
:
stands for open open sound control controller.
is an open source/hardware controller that communicates via the open sound control protocol.
is intended as a replacement for common MIDI controllers.
is meant to help DIYers transition from MIDI to better methods of communication.
communicates via ethernet (via wi-fi is a future goal).
can be powered by USB or a 5V DC adapter. Battery power is also a possibility.
is open-ended, and will eventually allow interfacing with both analog and digital inputs and outputs.
is currently very much in beta stages.
Here is the first ooscc made, which has 32 analog inputs (adc channels). 24 of them are wired as pots, and 8 are faders (all non-motorized). The potentiometers could be replaced with any (0-3.3V) voltage source. In order to accomodate more or less analog inputs, the hardware and firmware would have to be modified slightly. For more information about the architecture of the ooscc, go to the
technical
page.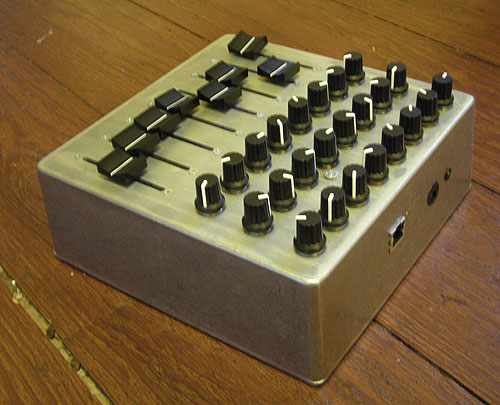 Here is a video of this ooscc, connected via Ethernet to a Macbook Pro, which is running Max/MSP. The patches used in this video are available on the
software
page. The ooscc is compatible with any application/device that can speak in OSC.
For more information, questions, or comments, don't hesitate to contact me at
colin@experimentalistsanonymous.com